ASHLEA WOLFF - LITTLE PAWS COTTAGE
Ashlea is a qualified pet first aider and RSPCA volunteer. She has been
caring for dogs for over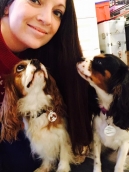 six years, and has worked tirelessly to prepare our home to achieve the highest standard five star license for a home boarding premises, as set by DEFRA and Sheffield City Council.
When you dog comes to stay they will live in our house with us, and treated like one of our own dogs. No cold kennels to worry about, and plenty of attention!
SPECIFICALLY FOR SMALL DOGS
We understand that sometimes smaller dogs can be intimidated by larger breeds, so for that reason we only board toy and small dogs for your peace of mind.